Our U9 Boys' pitch was just too wet to play on today and additional drainage for this area at Pursley is high on the club's priorities to address, particularly given the wetter winters we seem to be experiencing these days.
U11 Boys were able to play and put on a much improved display against Borehamwood Youth Knights in a first local derby for the team. After a gentle start, the boys found a higher level of energy and raised their game, scoring shortly after with top scorer Riley getting into double figures for the season after expertly dispatching following a trebuchet throw from debutant Kai M. The latter went on to secure MoM after an excellent opening match for the club, also supplying a slide rule pass for Kai J, who beat the offside trap and strode through to squeeze in a sweet strike for his second of the season.
The entire squad put in strong individual performances and with good protection in midfield from Charlie & Luke, a dominating, vocal match from keeper Max and excellent cover from Ben and Callum in defence, the boys also recorded their first clean sheet of the year. A really enjoyable game then, played in a good spirit between two well disciplined teams; without doubt, both were a credit to their clubs and the town.
In White division action, our U16 Boys took on a hot Harvesters South side pressing for promotion. After going a couple down after a lethargic start, the boys quickly improved and pulled one back after an excellent low finish from MoM Leiva; the first Wood player to christen the club's new full size goals. Though the result went away from the boys later on, the team kept at it throughout and were a credit to the club, as they have been all season.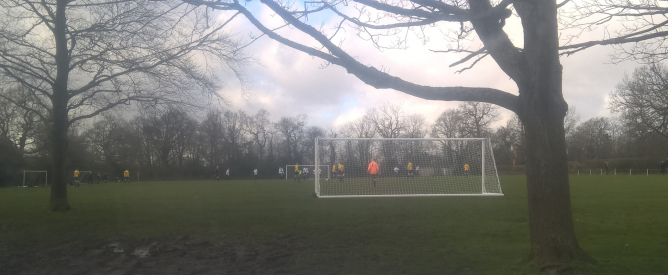 ******
The Wood's girls returned to match action today and there was of great football played.
U9 Girls were home at Pursley against a new opponent - Evergreen - and put on an excellent display. Lois added to her unbelievable season's tally with two wonderfully taken goals, while Emily drove through the opposition defence to drill home for her first ever goal. Thereafter, she pirouetted skilfully and fell into a crushing bear-hug from proud Dad and manager, Dave! Lottie and Gabby worked their socks off and enjoyed smashing games while Hazel kept things tight with an excellent cameo in goal.
Our U15 Girls played out a barmy match against Bedwell Rangers, scoring four times away from home, but, just unable to secure the win. In a vintage season, Swain added two more excellent goals to her mind-boggling overall total while Embleton, running ceaselessly throughout, skilfully found the net twice also. Rodrigues picked up PoM after selflessly filling in between the sticks.
U16 Girls had a really tough day with only nine players available and two of these succumbing to injury during the game. Despite that, the girls had a go and you can't ask for any more than that. Webb secured PoM with a resilient and gutsy display.
Both our older girls teams have struggled badly for numbers these last few seasons but, we have a core of talented young ladies that want to play football. The club will always support that so next season, we plan to merge the two teams into a super squad playing at U18; then it will be all systems go!