Well, what a day Sunday turned out to be!
U11 Boys served up the appetiser with a tasty performance at home to a talented Maccabi London Orange. The boys were passing the ball well with Lennon, Josh & Stanley catching the eye and the energetic Julian playing very effectively as he covered the pitch with penetrating tackles and dribbles.
Our first goal came as the lively Zain fed Joel with a slick pass, before he produced a super mazy dribble and composed finish, and this talented young man won a penalty for the team a little later that he converted from the rebound after the keeper had saved his first effort.
MoM went to keeper Caed who enjoyed a typically excellent game in his last Wood appearance before moving up North with the family, including incidentally, Shenley legend and all round good guy, the Reverend Daniel. Everyone at the Wood wishes them all the best of luck; they will be certainly be sorely missed.
After this poignant event, the Wood faithful were just about managing to keep their feelings in check, but, little did they know our U12s were just beginning to crank up the emotion lever even more!
Winning promotion from the WFL Yellow division last weekend, the club received welcome news just Friday that they'd rightly won the points from an abandoned game last month. This threw the Championship wide open and meant a win against HMH Eagles today would seal victory for the boys.
The team showed a steely determination to seize the moment from the off and quickly took the lead through Captain Crucefix, top scorer, notching his 18th goal of what has been an excellent season. This was the cue for some outstanding football from the team as they passed the ball really well to score seven further goals with McGuinness and George grabbing two apiece, and Manning, Song and Ifeacho also finding the net in style.
Marshall, Hones, Makamian, Montgomery, Hobbs, Reed & Pop all enjoyed excellent games and there was still time for MoM Malcolm to make a welcome return from serious injury and bag himself a high class goal that flew into the onion bag!
The final whistle blew for a 9-1 Wood victory and our heroes entered the Pantheon of our legendary teams that have secured a League title, making themselves and their families proud as punch.
Manager Makamian was lost for words for a good seven seconds before his lips started to flap as normal. 'The boys deserve so much credit for sticking with this and never giving up on their dreams. They are now champions, understanding what it takes to push themselves to great things. We're going to soak up that awesome feeling tonight before setting ourselves fabulous new challenges in the future.'
With that kind of rabbit, you wouldn't want to get stuck in a lift with him but, you just can't argue with those sentiments. Huge congratulations to all our U12 Boys.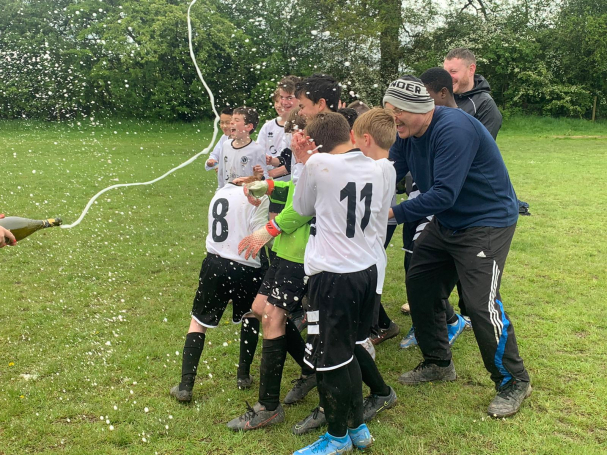 *
Our heroines in the U10s faced a good London Maccabi Lions away at Rowley Lane today.
The girls pieced together some lovely moves that thrilled the watching parents with Lucy grabbing herself a wonderful brace from the classic No8 position, with two shots of the highest quality busting the goal nets asunder!
Lois was in top form rampaging down the wing and setting up numerous chances for the team, while Kara was at her tricky best, bamboozling opposition defenders as she waltzed about gracefully with the ball.
PoM went to Kiella who was in fantastic form and covered every blade of grass in doing so.
This young lady can shift and her speed today was particularly invaluable as she kept a tight defence when the Wood went to an offensive three up-front formation.
A great effort from everyone; well done!
*
Our U18 Girls were also in fine fettle this morning as they faced Garston Leopards, their old adversaries and friends for many seasons.
The team made an energetic start with Joseph and Makamian raiding down the right flank and Rodrigues & Turner keeping things tight at the back. Young was buzzing around brightly too and it was no surprise when she opened the scoring with a scorcher from distance, the ball flying through the air like Halley's Comet before dropping under the bar to the oohs and aahs of the capacity crowd!
The team continued to work hard with excellent spells from Trainis & Adesanya (sadly moving soon into Ladies football as a result of growing up!), while Luckhurst, Knight & Shaw all performing admirably too. A neat goal from the Leopards saw the match tied before PoM Embleton produced a sublime finish to flick a crossed ball into the net from an unlikely angle before disappearing under an avalanche of celebrating Wood players!
The girls saw out the rest of the match with vintage performances from Hyman, Branigan and Kennedy-Millar, and recorded a hard fought and well contested 2-1 victory. With excellent performances from both the ref and the parent bases of both teams, everyone ended up a winner.
At the end, Coach Murray cleared his throat, requested calm and gave a heartwarming tribute to Manager Branigan, soon to depart Juniors' football for a little piece and quiet after many seasons exacting 'duty'. The Wood faithful sighed their appreciation as the good ol' days were recalled, but, cleared off for cakes quickly when Murray whipped out his microphone and started crooning 'We'll meet again'!
All in all, a pretty wonderful day.